INTERNATIONAL ATMA PREMA FLOW YOGA
Freedom of movement
The International Atma Prema Flow yoga course is designed for all foreign speaking participants, for all those wanting to practice yoga together with practicing english and most of all, for everyone who wants to co-create the best international atmosphere in Ljubljana. By identifying the lack of quantity & quality of internationally oriented Yoga programmes in Ljubljana, we developed this course regularly led in English.
What can you expect?
The prevailing type of yoga within the program is Hatha Free Flow, which focuses on slower but intense body movements. The emphasis is on right all-body parts alignment (meaning – healthy and individualized). Complementing all together with always a bit of a different meditative practice, encouraging personal growth through those practices. This class focuses on:
– Building and/or improving the core strength: To stay away from the injury, to perform well in all body activities, and to manifest a robust body in an overall – It is essential that core is strong and flexible.
– Lubricating the joints and treating backaches: In a sedentary lifestyle, the joints are not worked to their full capacity. As a result, they tend to stiffen up. In class we are gently working on improving the mobility in joints.
– Improving overall physical balance and posture: With the whole set of creative movements we facilitate balance and a sense of proprioception. You get to feel your body totally different once you develop an overall balance.
– Releasing stress and encouraging an overall well-being: Though each and every class we direct individuals to mental peace and positivity. The whole class is designed to bring participants to the state of calmness and mental & emotional stability.
– Inspirational time: We always try to have some fun and are spontaneous enough to have a playful class, where everyone feels more connected with each other no matter where they come from. We are all one at the end.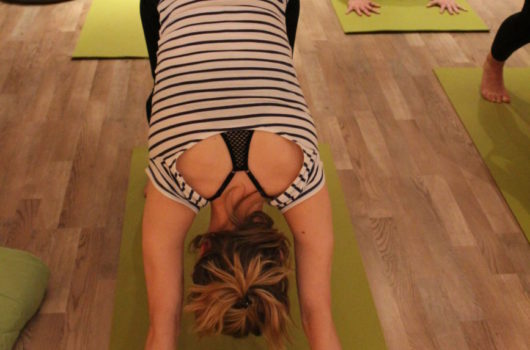 Who is this program designed for?
Our international class is designed for ALL – beginners and intermediate participants that seek both physical and mental practice that would serve as a tool to feel more alive, fulfilled with positive energy and more at peace with yourself and life you live.
Location and schedule details
The course takes place in our yoga studio Yoga Yama on Celovška street 32 in Ljubljana, Šiška every Wednesday from 7 PM till 8.15 PM. The course is organized in two four-month semesters.
The first semester lasts from September to January, the second semester lasts from February to May. It is possible to join at any time and stay till the end of the semester (in this case the price is reduced proportionally).
The first visit is free. Drop-in classes are not possible. The price for one semester practice is 200/160 eur. You can substitute a practice that you can not visit, by prior arrangement, in any group led in the Slovenian language, in case there is enough room.
The yoga teacher is Eva.
Information and application: info@potjoge.si